Bike: Kawasaki KX250F
National Number: 24
Years Pro: 3
Favorite Fox Racewear: 360 Preme Purple
Gear Size: Jersey – S, Pant – 30, Boot – 10, Glove – M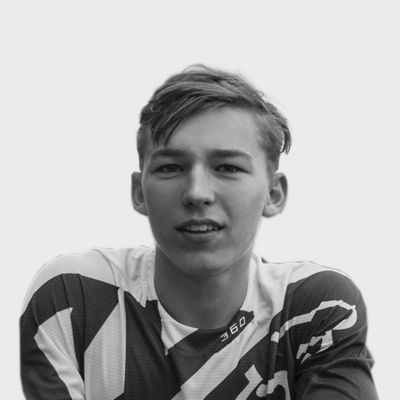 DATE OF BIRTH 02-09-1998
BIRTH PLACE Richards, MO
RESIDENCE Richards, MO
TEAM Monster Energy®/Pro Circuit/Kawasaki
FOX TEAM RIDER SINCE 2010
National Number: 24
Bike: Kawasaki KX250F
TEAM Monster Energy®/Pro Circuit/Kawasaki
Rider details
DATE OF BIRTH 02-09-1998
BIRTH PLACE Richards, MO
RESIDENCE Richards, MO
Years Pro: 3
Favorite Fox Racewear: 360 Preme Purple
Gear Size: Jersey – S, Pant – 30, Boot – 10, Glove – M
FOX TEAM RIDER SINCE 2010
Austin Forkner started his racing motocross career in 2003 at the age of five. In his first year racing, he won the Show-Me Fall Series. Later on, he continued racing in his home state until 2005, when he entered his first amateur national event at Ponca City, finishing top 10 in either 50cc 7-8 classes. Racing and being competitive "runs" in Austin's veins. His father is a smooth motocross rider, and his mother is a barrel racer on horses, making it only natural for them to support Austin. His parents were Austin's primary support through 2010. In that same year, Austin was the only youth rider to win TWO National Titles at Loretta's. Since his first AMA National title at Loretta's, Austin has been on the Kawasaki Team Green bikes as a factory supported rider. In 2015, Austin set his sights on the pro ranks and made a plan on how he would transition to professional racing. He made his last performance as an amateur racer at the Loretta Lynn National Championships in August 2015 with 2 victories. Then he started working on his pro program. In September, in his first pro race, he finished 4th behind 3 seasoned veterans of the sport. In January he raced 2 Arenacross races winning the second one in Greensboro. Austin wrapped up his amateur career with wins at Daytona and Freestone.
Read More
Interview Questions
Where is your favorite place to ride? Reynard's place in Oklahoma
What's your overall most memorable career moment? Winning iron man outdoor national my rookie year as a pro

How did you start riding MX? My dad raced when I was younger and that's all I wanted to do.

As a Pro, what is your most proud moment? My first win at Indiana last year was pretty sweet

Who was your favorite rider growing up? Trey Canard

What are your hobbies? Pretty much doing anything with the guys I train with, going to the skatepark, shooting guns, playing covers on guitar, and just listening to music.
Rider Top Fox Gear Picks? 360 Preme White/Purple, Grey Instinct Boot
Read More
Career Highlights
2016
Freestone Spring Championship - 250 A - 1st Place Champion
Freestone Spring Championship - Open Pro - 1st Place Champion
Daytona RCSX - 250 A - 1st Place Champion
Daytona RCSX - Open Pro - 1st Place Champion
2015
Mini-Olympics - 250 A/Pro – 1st Place Olympiad
Mini-Olympics - 450 A/Pro – 1st Place Olympiad
Monster Cup - Am All-Stars – 1st Place Champion
Loretta Lynn's - 250 B – 1st Place Champion
Freestone – 250 B – 1st Place Champion
Daytona RCSX – 250 B – 1st Place Champion
2014
Mini-Olympics – 250 B – 1st Place Olympiad
Loretta Lynn's - SuperMini 2 – 1st Place Champion
Freestone – SuperMini 2 – 1st Place Champion
Daytona RCSX – SuperMini – 1st Place Champion
2013
Mini-Olympics – SuperMini – 1st Place Olympiad
Monster Cup – SuperMini – 1st Place Champion
Freestone – SuperMini 2 – 1st Place Champion
2012
Mini-Olympics – Bronze Boot Award Winner
Monster Energy Cup – 1st Place Champion
2011
Loretta Lynn's – 85cc 12-14 Mod – 1st Place Champion