Bike: KX250F
National Number: 92
Years Pro: 4
Favorite Fox Racewear: 360 Draftr Blue
Gear Size: Jersey – L, Pant – 30, Glove: Medium, Boot – 10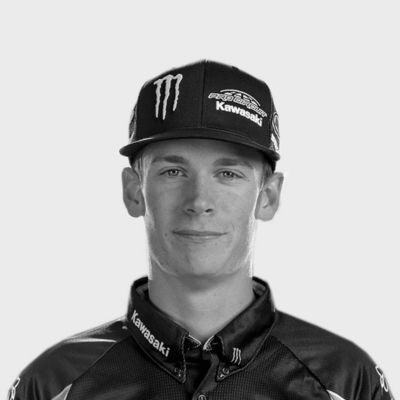 DATE OF BIRTH 20-10-1996
BIRTH PLACE Port Orange, FL
RESIDENCE Clermont, FL
TEAM Monster Energy Pro Circuit/Kawasaki
FOX TEAM RIDER SINCE 2016
National Number: 92
Bike: KX250F
TEAM Monster Energy Pro Circuit/Kawasaki
Rider details
DATE OF BIRTH 20-10-1996
BIRTH PLACE Port Orange, FL
RESIDENCE Clermont, FL
Years Pro: 4
Favorite Fox Racewear: 360 Draftr Blue
Gear Size: Jersey – L, Pant – 30, Glove: Medium, Boot – 10
FOX TEAM RIDER SINCE 2016
Florida native Adam Cianciarulo began his motocross career at the age of 3 after watching Supercross races with his Dad. Cianciarulo was actively racing by Age 4, and quickly became one of the hottest rising stars in the sport. He was tapped by Kawasaki's coveted Team Green amateur support program shortly after and went on to have one of the most successful Amateur Motocross careers in the history of the sport, winning a total of 11 championships. All of his amateur success led to an opportunity to join the most prestigious 250 race team in the sport, Mitch Payton's Monster Energy Pro Circuit Kawasaki team.
Cianciarulo turned pro in the summer of 2013, and despite an illness early in his campaign he was able to earn a podium finish in his first race in Utah and a total of five top 10 finishes as a rookie. 2014 saw AC's Supercross debut and he came out swinging with 3 wins in the first 5 races before getting injured. Following his injury the next two years would be a rough go for Cianciarulo as injuries plagued the young rider and he was only able to complete partial seasons. Nonetheless, Mitch Payton stuck by his side and he would return to full strength in the summer of 2016, with an all new training program alongside Ken Roczen. He put in many impressive rides during the Pro Motocross season and was starting to show the spark he began his pro career with.
In 2017 Cianciarulo was finally healthy coming into a Supercross season and he scored his first win of the year at his hometown race at Daytona International Speedway in Florida. After multiple podium finishes during that SX campaign, AC missed out on the East Coast SX Championship in Las Vegas by just two points. Adam had a successful summer as well in 2017, with two podium overall finishes and the Overall victory at Budds Creek in Maryland. The story of Adam Cianciarulo surely is not over, and he will return to action with the Pro Circuit outfit again in 2018 and beyond.
Read More
Interview Questions
What's your favorite riding location?
I really enjoy Washougal. It's hard packed and technical, plus it's in a super cool environment up in the trees in Washington. I ride well there, too, so that helps.
If you weren't a Pro Rider, what would you be doing?
I would probably be in broadcasting school or something along those lines. I've always had fun being in front of the camera and I think that is something I could really excel at.
What do you like most about riding for Fox?
Of course, the product is some of the best stuff in the business - for me, though, it's the laid back family atmosphere that Fox has. The vibe of the company is so upbeat and positive, and it's a great thing to be apart of.
What motivates you?
Winning. That's a pretty cliche answer, but I've never experienced a feeling quite like crossing the finish line first in a Supercross main event.
What's your overall most memorable career moment?
That's a tough one. I would say winning my home SX race at Daytona in 2017. I had a few injuries I had to overcome to get back on top, and to have it all come together in front of all my family and friends was really special.
What was your first bike?
A PW50.
How did you get into riding MX? I saw it on TV, and I started watching it all the time. I asked my dad for a bike for my 3rd birthday - and here I am!
Who was your favorite rider growing up?
Jeremy McGrath was really the guy who sparked my interest in the sport to begin with, so naturally he was always my favorite. Once he retired Ricky Carmichael was my guy. I think that means I was a bandwagon fan?
What are your hobbies outside Moto? Cycling is a part of our training regiment, but that's something I enjoy doing and I would consider it a hobby as well. In the past couple months I've started to play golf, too, so I've been having a good time trying to improve my game.
Current favorite Fox gear:
Flex Air Preest Dark Red
Read More
Career Highlights
2017
Daytona 250 East Supercross Winner
2017
250 Las Vegas East/West Shoot out Winner
2017
Budds Creek 250 Winner
2014
250cc East Supercross win in Arlington, Indianapololis, Detroit
11 Championships at AMA Amateur National Motocross Championships at Loretta Lynn's