Images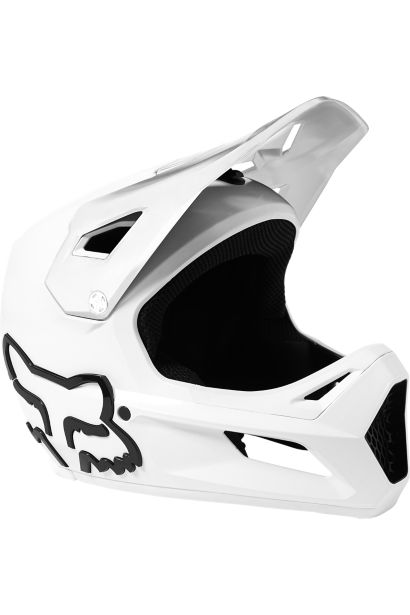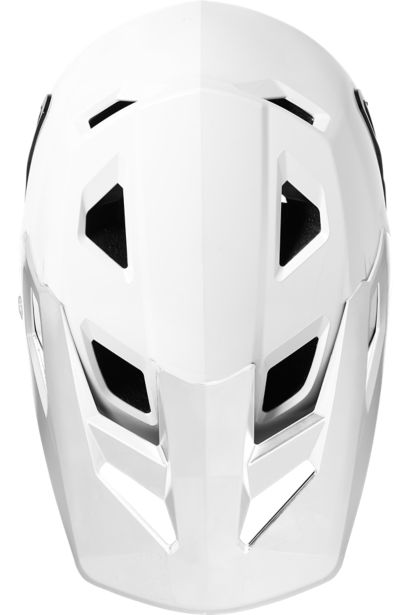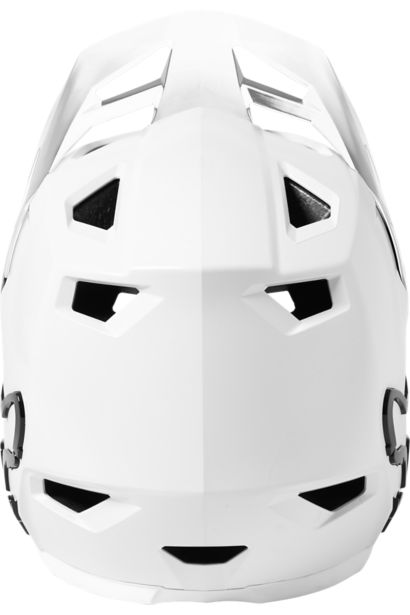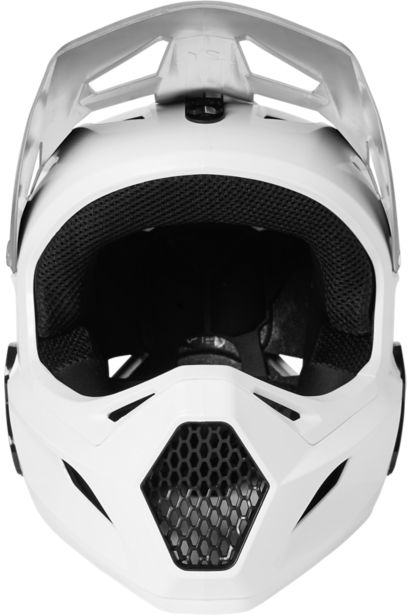 Details
https://www.foxracing.com/yth-rampage-helmet-%5Bwht%5D-ys/27616-008-YS.html
Size Guide
Sizing Guides
*measured in centimeters
Mens Tops

| Size | S | M | L | XL | XXL | XXXL |
| --- | --- | --- | --- | --- | --- | --- |
| Height | 1.67m - 1.72m | 1.72m - 1.77m | 1.77m - 1.82m | 1.8m - 1.85m | 1.82m - 1.87m | 1.82m - 1.87m |
| Chest | 89 - 94 | 97 - 102 | 104 - 109 | 112 - 117 | 119 - 127 | 130 - 132 |
| Arm Length | 81.28 - 82.55 | 82.55 - 85.09 | 86.36 - 88.9 | 88.9 - 91.44 | 91.44 - 93.98 | 93.98 - 96.52 |
Mens Bottoms

| Size | S | S | M | M | M | L | L | XL | XXL | XXL | XXXL | XXXL |
| --- | --- | --- | --- | --- | --- | --- | --- | --- | --- | --- | --- | --- |
| Numeric Size | 71.12 | 73.66 | 76.2 | 78.74 | 81.28 | 83.82 | 86.36 | 91.44 | 96.52 | 101.6 | 106.68 | 111.76 |
| Height | 1.67m - 1.72m | 1.67m - 1.72m | 1.67m - 1.72m | 1.72m - 1.77m | 1.72m - 1.77m | 1.77m - 1.82m | 1.77m - 1.82m | 1.8m - 1.85m | 1.82m - 1.87m | 1.82m - 1.87m | 1.82m - 1.87m | 1.82m - 1.87m |
| Waist | 76.2 | 78.7 | 81.3 | 83.8 | 86.4 | 88.9 | 91.4 | 96.5 | 101.6 | 106.7 | 111.8 | 116.8 |
| Hip | 86 - 89 | 89 - 91 | 91 - 94 | 94 - 96.5 | 96.5 - 99 | 99 - 102 | 102 - 104 | 106 - 109 | 111 - 114 | 116 - 119 | 122 - 124 | 127 - 129.5 |
| Inseam | 76.2 | 76.2 | 78.7 | 78.7 | 78.7 | 81.2 | 81.2 | 82.5 | 83.8 | 83.8 | 83.8 | 83.8 |
Women's Tops

Size
XS
S
M
L
XL
XXL
Numeric Size
0.5
4/6
8/10
12/14
16
18
Chest
81.3 - 83.8
86.4 - 114.3
91.4 - 94
96.5 - 102
104 - 109
111 - 117
Arm Length
72 - 74
75 - 76
77 - 78
80
81
82.5 - 84
Waist
60.9 - 63.5
66 - 68.5
71.1 - 75
78.7 - 82.5
86.4 - 90.2
93.9 - 97.7
Hip
87.6 - 90.2
92.7 - 95.3
97.7 - 101.6
102.8 - 109
113
Women's Bottoms

| Size | XS | XS | S | S | M | M | L | L | XL |
| --- | --- | --- | --- | --- | --- | --- | --- | --- | --- |
| Numeric Size | 0 | 2 | 4 | 6 | 8 | 10 | 12 | 14 | 16 |
| Waist | 60.9 | 63.5 | 66 | 68 | 71 | 74.9 | 78.7 | 82.5 | 86.3 |
| Hip | 87.6 | 90.1 | 92.7 | 95.3 | 97.7 | 101.6 | 105.4 | 109 | 113 |
| Thigh | 49.5 | 51.4 | 53.3 | 55.2 | 57.4 | 59.6 | 62.2 | 64.7 | 67.3 |
| Inseam | 73.6 | 74.2 | 74.9 | 75.5 | 76.2 | 76.8 | 77.5 | 78 | 78.7 |
Women's Swim

Size
XS
S
M
L
XL
Numeric Size
0/2
4/6
8/10
12
14
Chest
82.5 - 76.2
86.3 - 88.9
90.1 - 92.7
95.25 - 97.7
100.3 - 102.8
Cup Sizes
AA - A CUP
B CUP
B - C CUP
C - CUP
D - CUP
Hip

(Fullest part)

88.9 - 91.4
92.7 - 95.3
96.5 - 99
101.6 - 104
106.6 - 109
Kids Boys Tops

| Size | Age | Height | Chest | Inseam |
| --- | --- | --- | --- | --- |
| KS | 4 | 1m - 1.06m | 55.8 | 48.2 - 50.1 |
| KM | 5 | 1.06m - 1.11m | 58.4 | 50 - 52 |
Kids Boys Bottoms

| Size | Age | Height | Waist | Inseam |
| --- | --- | --- | --- | --- |
| K4 | 4 | 1m - 1.06m | 53.3 | 43.1 - 45.7 |
| KS | 5 | 1.06m - 1.11m | 54.6 | 46.3 - 48.8 |
Youth Boys Tops

| | S | M | L | XL |
| --- | --- | --- | --- | --- |
| Age | 6/7 | 8 | 10/12 | 14 |
| Height | 1.1m - 1.2m | 1.27m - 1.34m | 1.37m - 1.49m | 1.5m - 1.6m |
| Chest | 60 - 63 | 66 - 68.5 | 71 - 73.6 | 76.2 - 78.7 |
| Arm Length | 53.3 - 57.15 | 58.4 - 62.2 | 63.5 - 67.3 | 68.5 - 69.8 |
Youth Boys Bottoms

| | S | M | L | XL |
| --- | --- | --- | --- | --- |
| Numeric Size | 22 | 24 | 26 | 28 |
| Age | 6/7 | 8 | 10/12 | 14 |
| Height | 1.1m - 1.2m | 1.27m - 1.34m | 1.37m - 1.49m | 1.5m - 1.6m |
| Waist | 55.8 - 58.4 | 60.9 - 63.5 | 66 - 68.5 | 71 - 73.6 |
Helmets

| XS | S/M | L/XL |
| --- | --- | --- |
| 20.5" - 21.75" | 21.875" - 23.125" | 23.25" - 24.75" |
| 52cm - 55cm | 56cm - 58cm | 59cm - 63cm |
HELMETS

| XS | S | M | L | XL |
| --- | --- | --- | --- | --- |
| 20.875" - 21.25" | 21.67" - 22.125" | 22.375" - 23.125 | 22.25" - 23.75 | 22.875" - 24.75 |
| 53cm - 54cm | 55cm - 56cm | 57cm - 58cm | 59cm - 60cm | 61cm - 62cm |
HELMETS

| S | M | L |
| --- | --- | --- |
| 20.5" - 21.25" | 21.67" - 23.125" | 23.25" - 24" |
| 52cm - 54cm | 55cm - 58cm | 59cm - 61cm |
GLOVES (Womens)

| S(8) | M(9) | L(10) | XL(11) |
| --- | --- | --- | --- |
| 6.625" - 6.875" | 6.875" - 7.125" | 7.125" - 7.375" | 7.375" - 7.625" |
| 170mm - 176mm | 176mm - 182mm | 182mm - 188mm | 188mm - 194mm |
GLOVES (Youth)

| YXS(4) | YS(5) | YM(6) | YL(7) |
| --- | --- | --- | --- |
| 5.25" - 5.375" | 5.375" - 5.625" | 5.625" - 5.875" | 5.875" - 6.125" |
| 132mm - 138mm | 138mm - 144mm | 144mm - 150mm | 150mm - 156mm |
GLOVES (Mens)

| S(8) | M(9) | L(10) | XL(11) | XXL(12) | XXXL(13) | XXXXL(14) |
| --- | --- | --- | --- | --- | --- | --- |
| 7.125" - 7.375" | 7.375" - 7.625" | 7.625" - 7.875" | 7.875" - 8.125" | 8.125" - 8.375" | 8.375" - 8.625 | 8.625" - 8.875 |
| 182mm - 188mm | 188mm - 194mm | 194mm - 200mm | 200mm - 206mm | 206mm - 212mm | 212mm - 218mm" | 218mm - 224mm" |
Socks (bike and lifestyle)

| Country | S/M | L/XL |
| --- | --- | --- |
| USA | 9 - 11 | 11 - 13 |
| EURO | 39 - 42 | 43 - 45 |
| UK | 5 - 7 | 7 - 9.5 |
Socks (MX)

| Country | S | M | L |
| --- | --- | --- | --- |
| USA | 6 - 8 | 8 - 10 | 10 - 13 |
| EURO | 38 - 41 | 41 - 43 | 43 - 46 |
| UK | 5 - 7 | 7 - 9 | 9 - 12 |
Belts (lifestyle)

| S | M | L | XL |
| --- | --- | --- | --- |
| 28 - 32 | 32 - 34 | 36 - 38 | 40 - 42 |
To measure the chest circumference, place the page around the fullest part of the chest, under the arms.
Measure from the center of the back neck out to the end of the wrist.
To measure the waist circumference, place a tape measure around your bare stomach just above the upper hip bone.
Measure the circumference about 23cm/9in below the waistline. Stand with feet together.
Measure from the crotch to the bottom of the leg (or desired length of hem), running vertically down the inside of the leg.
Measure from top of the head to bottom of the feet.
To measure the thigh circumference, place the tape around the fullest part of the thigh, below the crotch.
Our most affordable DH-certified mountain bike helmet.
Offered in youth sizing for the first time, Youth Rampage Helmet offers full face coverage to young park, BMX, downhill and enduro riders. It features a lightweight injection-molded ABS shell inspired by our iconic Rampage Pro Carbon Helmet. Injected mesh vent screens maintain superior ventilation while keeping rocks and twigs at bay as you shred the trails. The fully adjustable visor and proven D–ring closure system adds big-mountain function to this essential style.
FEATURES
Lightweight, injection molded ABS shell
Mesh vent screens provide ventilation while filtering dirt and debris
Double d-ring closure
Adjustable visor
CERTIFICATIONS