7/15/18
VALLNORD DH WORLD CUP RECAP
It was an eventful weekend in Vallnord, Andorra to say the least. The relatively short track is the steepest in the series - dropping a stunning 2053ft in just over 1.5 miles. It's a track that magnifies every mistake, leaving riders with little room to make up time. The challenging course claimed many big names before the finals even started. When the dust settled, Fox Team riders Loris Vergier and Tahnee Seagrave stood on the top steps.
Loris Vergier took first place and claimed his first World Cup Victory. Riding on the edge, but in control, Vergier was lighting up the split times green. It was a nearly flawless ride, and he came in at the finish 4.57 seconds up on the field. 4:04:05 was the time to beat, and it would not be bested this day.
"It's just like all your life you chase something, and then the hard work pays off" – Loris Vergier.
Tahnee Seagrave is on fire. At the start of her run, she knew she had to put it all on the line – with a qualifying time 14 seconds behind the leader. Attacking the mountain with grit and determination, she put down a scorching time of 4:49:84 and took her place on the hot seat. Rachel Atherton would challenge in the final run, but a rut would send her off course, all but securing the win for Seagrave. Now with back-to-back wins, she has closed the gap in the overall standings to just 80 points.
"I've never done well in Andorra… I'm just over the moon." – Tahnee Seagrave.
The Fox MTB Team had 4 podiums on the day, with Laurie Greenland finishing 4th and Finn Iles taking 5th. Loic Bruni finished 8th, an effort to be proud of, considering he was riding with 16 stitches from a crash in qualifying.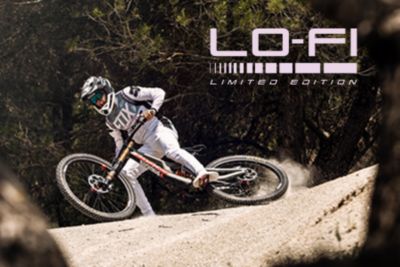 7/12/18
LO-FI LIMITED EDITION
LO-FI Limited Edition takes us back to 1986. Back to the days of big hair, synthesizers, and early downhill mountain bike racing. True to the 80's, the Demo and Indicator LO-FI Jerseys take an anything-but-minimal approach to styling. The pop-colored pastels and retro graphics are a blast from the past and will keep you looking rad on the mountain.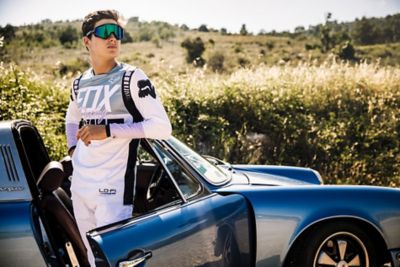 Loris Vergier will be wearing this flashback jersey at the 5th stop of the 2018 UCI Downhill World Cup series, in Andorra. The rest of the Fox MTB squad will be rocking slightly different versions of the 80's-inspired graphic package, giving them a unique look on the legendary course.