Bike: Husqvarna FC450 Rockstar Edition
National Number: 99
Years Pro: 8
Favorite Fox Racewear: 360 Draftr
Gear Size: Helmet M, Jersey M, Pant 32, Glove L, Boot 11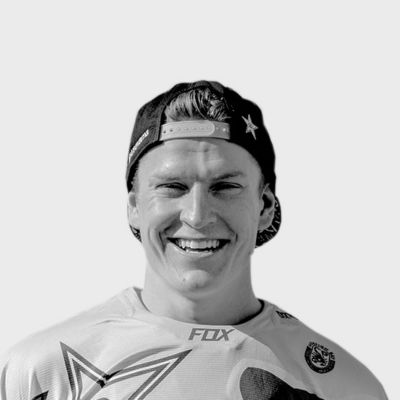 DATE OF BIRTH 25/04/1993
BIRTH PLACE Winchester, United Kingdom
RESIDENCE Winchester, United Kingdom
TEAM Rockstar Energy Husqvarna Factory Racing
National Number: 99
Bike: Husqvarna FC450 Rockstar Edition
TEAM Rockstar Energy Husqvarna Factory Racing
Rider details
DATE OF BIRTH 25/04/1993
BIRTH PLACE Winchester, United Kingdom
RESIDENCE Winchester, United Kingdom
Years Pro: 8
Favorite Fox Racewear: 360 Draftr
Gear Size: Helmet M, Jersey M, Pant 32, Glove L, Boot 11
Englishman Max Anstie has MX in his blood - he is the son of former FIM 500cc World Title Contender Marvyn Anstie. After a highly touted Amateur career where he was successful in both Europe and the US, Anstie opted to race full time in the US on the professional level starting in 2009.
After some solid performances in the States, Anstie headed back to Europe full time in 2011 to contest the MX2 World Title with the CLS Kawasaki team. He continued to develop as a rider over the next few seasons and scored 3rd Overall in the MX2 World Championship in 2015.
Anstie made the switch over to Husqvarna in 2016 and finished off his MX2 Career with a 4th Overall for the season. He graduated to the MXGP Class in 2017 and joined the Rockstar Energy Husqvarna Factory Racing IceOne program. Anstie enjoyed a successful rookie 450 campaign in '17 that included multiple podium overall finishes as well as a 3rd Place at the MX of Nations on his home ground in the UK.
2018 should be an exciting year for Anstie as he becomes an MXGP Sophomore and surely have his eye on the top step of the podium.
Read More
Interview Questions

What's your favorite riding location ? Matterly Basin

What's your most memorable career moment ? This year's MXON in my home country was amazing.

How did you start riding MX ? My Dad raced 500cc GP's back in the day and he got me started with racing.

Who was your favorite rider growing up ? Ricky Carmichael

What are your hobbies ? Cycling, playing Badminton with the team rider

Read More
Max Anstie's Favorite Gear
Career Highlights
2007
1st Place Bercy SX 85cc
2008
1st Place Bercy SX 125cc
2011
6th Place MX2 World Championship
2015
3rd Place MX2 World Championship
2017
3rd Place FIM Motocross of Nations Team Great Britian