Bike: Husquavrana FC450
National Number: 46
Years Pro: 22
Favorite Fox Racewear: FLEXAIR Union Black
Gear Size: Helmet – L, Jersey – L, Pant – 32, Boot – 12, Glove – L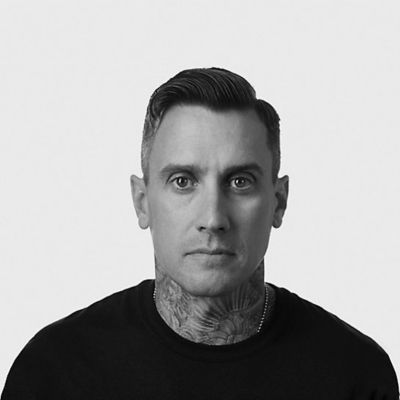 DATE OF BIRTH 17-07-1975
BIRTH PLACE Las Vegas, NV
RESIDENCE Santa Ynez, CA
FOX TEAM RIDER SINCE 1995
National Number: 46
Bike: Husquavrana FC450
Rider details
DATE OF BIRTH 17-07-1975
BIRTH PLACE Las Vegas, NV
RESIDENCE Santa Ynez, CA
Years Pro: 22
Favorite Fox Racewear: FLEXAIR Union Black
Gear Size: Helmet – L, Jersey – L, Pant – 32, Boot – 12, Glove – L
FOX TEAM RIDER SINCE 1995
Carey Hart is one of the most recognized names in all of freestyle motocross. In 1998, the freestyle motocross movement was born with Carey leading the way. From the sport's inception, Carey has been one of the most innovative riders in the sport. He is the inventor of the Hart Attack, and at the 2000 Gravity Games Carey etched his name in the record books as the first rider ever to complete a back flip on a 250cc motorcycle. The back flip catapulted Carey, and Freestyle Motocross as a whole, to an entirely new level. The stunt got the world's attention; it was even featured on Ripley's Believe It or Not! Carey has traveled the globe on a quest to put freestyle motocross on the map. His popularity has helped increase exposure for the sport of Freestyle Motocross. He has been featured in nationwide ad campaigns for Ford and Mountain Dew as well as in such print publications such as Paper Magazine, Teen People, EXPN The Magazine, Rolling Stone, and has graced the covers of numerous motocross magazines. Carey has also starred on The Late Show with David Letterman, appeared on The Today Show and has starred in ESPN/Touchstone Pictures' IMAX film, Ultimate X and has cameo appearances in Columbia Pictures' XXX and Touchstone Pictures' Charlie's Angels II and in the VH1 reality show The Surreal Life. In addition to these business ventures, he still dedicates significant time to one of his biggest passions, his Supercross team. Carey along with co team owner Ricky Carmichael are leading the way of motocross team sponsorship with their RCH team landing cooperate sponsors like Dodge and Jimmy John. This past year RCH signed Ken Roczen how took the team to its first ever Supercross win and their first win in the motocross series.
Read More
Interview Questions

What's your most memorable career moment ? Right now is my most memorable moment. To be involved with the sport of racing and FMX for as long as I have, its been great to watch it evolve. And I'm just really lucky to still be riding at the level that I do, an d still invested in the sport

What was your first bike? 1979 RM 50. I got it when I was 4. We moved to Vegas right after I got it, and I rode the thing ev ery day in the dirt lot in front of our house. About 10 years ago I started looking for a 1979 RM 50 to restore and hold onto. My Uncle John is very active in the vintage motorcycle series. I had no luck finding one, so I asked my uncle to keep an eye out. A year later not only did he find one, but he found mine! It is now being restored and will join the line up of bikes in my s hop

Who was your favorite rider growing up ? My favorite rider growing up was Jeff Ward. I used to love his style and that Open Face/O akley setup. I always thought was the coolest thing ever. Back in the early 80's we had a national in Las Vegas. A bunch of the racers were in vegas the week before the race and happened to be at the local practice spot behind my house. I rode my bike down to "the Mesa" to watc h the guys ride. I was hovering around Wardy's box van the whole day. His mechanic finally asked me, "Why aren't you out here riding?" I told him that I bent my handle bars pret ty back the prior weekend and my bike was parked. He came out of the box van a few minutes la ter with a new set of bars for my 60. Awesome memory for me.

Read More
Career Highlights
2015
Nevada Sports Hall of Fame Inductee
2011
Riders Above Dirt R.A.D. Lifetime Achievement Award
2002
X Games Silver Medal Moto X Big Air
Australian X Games Gold
2001
Salt Lake LXD Freeride Gold MotoX, Big Air
2000
First Ever Backflip on a 250cc Bike, Gravity Games
Mountain DewTrick of the Week
ToyotaTrick of the Week
1999
Summer X Games Bronze
Australian X Games Gold