Images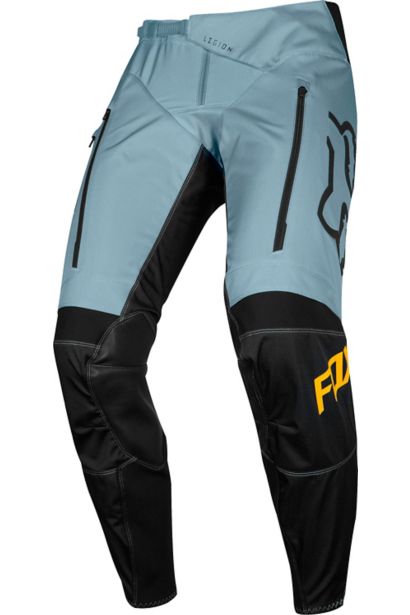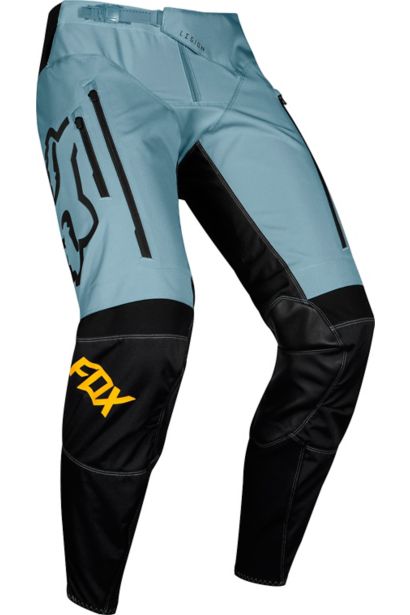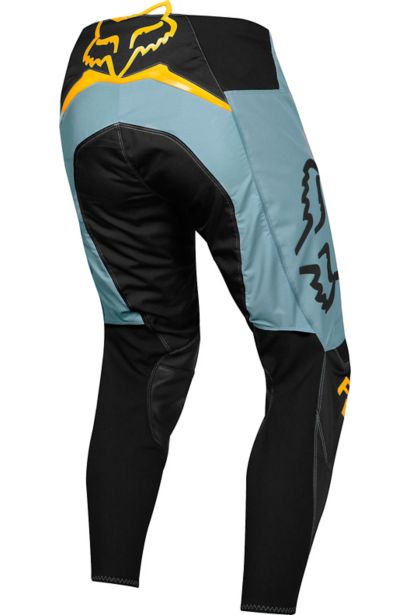 Details
https://www.foxracing.com/legion-pant-%5Blt-slt%5D-28/21888-223-28.html
Size Guide
Sizing Guides
*measured in centimeters
Mens Tops

| Size | S | M | L | XL | XXL | XXXL |
| --- | --- | --- | --- | --- | --- | --- |
| Height | 1.67m - 1.72m | 1.72m - 1.77m | 1.77m - 1.82m | 1.8m - 1.85m | 1.82m - 1.87m | 1.82m - 1.87m |
| Chest | 89 - 94 | 97 - 102 | 104 - 109 | 112 - 117 | 119 - 127 | 130 - 132 |
| Arm Length | 81.28 - 82.55 | 82.55 - 85.09 | 86.36 - 88.9 | 88.9 - 91.44 | 91.44 - 93.98 | 93.98 - 96.52 |
Mens Bottoms

| Size | S | S | M | M | M | L | L | XL | XXL | XXL | XXXL | XXXL |
| --- | --- | --- | --- | --- | --- | --- | --- | --- | --- | --- | --- | --- |
| Numeric Size | 71.12 | 73.66 | 76.2 | 78.74 | 81.28 | 83.82 | 86.36 | 91.44 | 96.52 | 101.6 | 106.68 | 111.76 |
| Height | 1.67m - 1.72m | 1.67m - 1.72m | 1.67m - 1.72m | 1.72m - 1.77m | 1.72m - 1.77m | 1.77m - 1.82m | 1.77m - 1.82m | 1.8m - 1.85m | 1.82m - 1.87m | 1.82m - 1.87m | 1.82m - 1.87m | 1.82m - 1.87m |
| Waist | 76.2 | 78.7 | 81.3 | 83.8 | 86.4 | 88.9 | 91.4 | 96.5 | 101.6 | 106.7 | 111.8 | 116.8 |
| Hip | 86 - 89 | 89 - 91 | 91 - 94 | 94 - 96.5 | 96.5 - 99 | 99 - 102 | 102 - 104 | 106 - 109 | 111 - 114 | 116 - 119 | 122 - 124 | 127 - 129.5 |
| Inseam | 76.2 | 76.2 | 78.7 | 78.7 | 78.7 | 81.2 | 81.2 | 82.5 | 83.8 | 83.8 | 83.8 | 83.8 |
Women's Tops

Size
XS
S
M
L
XL
XXL
Numeric Size
0.5
4/6
8/10
12/14
16
18
Chest
81.3 - 83.8
86.4 - 114.3
91.4 - 94
96.5 - 102
104 - 109
111 - 117
Arm Length
72 - 74
75 - 76
77 - 78
80
81
82.5 - 84
Waist
60.9 - 63.5
66 - 68.5
71.1 - 75
78.7 - 82.5
86.4 - 90.2
93.9 - 97.7
Hip
87.6 - 90.2
92.7 - 95.3
97.7 - 101.6
102.8 - 109
113
Women's Bottoms

| Size | XS | XS | S | S | M | M | L | L | XL |
| --- | --- | --- | --- | --- | --- | --- | --- | --- | --- |
| Numeric Size | 0 | 2 | 4 | 6 | 8 | 10 | 12 | 14 | 16 |
| Waist | 60.9 | 63.5 | 66 | 68 | 71 | 74.9 | 78.7 | 82.5 | 86.3 |
| Hip | 87.6 | 90.1 | 92.7 | 95.3 | 97.7 | 101.6 | 105.4 | 109 | 113 |
| Thigh | 49.5 | 51.4 | 53.3 | 55.2 | 57.4 | 59.6 | 62.2 | 64.7 | 67.3 |
| Inseam | 73.6 | 74.2 | 74.9 | 75.5 | 76.2 | 76.8 | 77.5 | 78 | 78.7 |
Women's Swim

Size
XS
S
M
L
XL
Numeric Size
0/2
4/6
8/10
12
14
Chest
82.5 - 76.2
86.3 - 88.9
90.1 - 92.7
95.25 - 97.7
100.3 - 102.8
Cup Sizes
AA - A CUP
B CUP
B - C CUP
C - CUP
D - CUP
Hip

(Fullest part)

88.9 - 91.4
92.7 - 95.3
96.5 - 99
101.6 - 104
106.6 - 109
Kids Boys Tops

| Size | Age | Height | Chest | Inseam |
| --- | --- | --- | --- | --- |
| KS | 4 | 1m - 1.06m | 55.8 | 48.2 - 50.1 |
| KM | 5 | 1.06m - 1.11m | 58.4 | 50 - 52 |
Kids Boys Bottoms

| Size | Age | Height | Waist | Inseam |
| --- | --- | --- | --- | --- |
| K4 | 4 | 1m - 1.06m | 53.3 | 43.1 - 45.7 |
| KS | 5 | 1.06m - 1.11m | 54.6 | 46.3 - 48.8 |
Youth Boys Tops

| | S | M | L | XL |
| --- | --- | --- | --- | --- |
| Age | 6/7 | 8 | 10/12 | 14 |
| Height | 1.1m - 1.2m | 1.27m - 1.34m | 1.37m - 1.49m | 1.5m - 1.6m |
| Chest | 60 - 63 | 66 - 68.5 | 71 - 73.6 | 76.2 - 78.7 |
| Arm Length | 53.3 - 57.15 | 58.4 - 62.2 | 63.5 - 67.3 | 68.5 - 69.8 |
Youth Boys Bottoms

| | S | M | L | XL |
| --- | --- | --- | --- | --- |
| Numeric Size | 22 | 24 | 26 | 28 |
| Age | 6/7 | 8 | 10/12 | 14 |
| Height | 1.1m - 1.2m | 1.27m - 1.34m | 1.37m - 1.49m | 1.5m - 1.6m |
| Waist | 55.8 - 58.4 | 60.9 - 63.5 | 66 - 68.5 | 71 - 73.6 |
Helmets

| XS | S/M | L/XL |
| --- | --- | --- |
| 20.5" - 21.75" | 21.875" - 23.125" | 23.25" - 24.75" |
| 52cm - 55cm | 56cm - 58cm | 59cm - 63cm |
HELMETS

| XS | S | M | L | XL |
| --- | --- | --- | --- | --- |
| 20.875" - 21.25" | 21.67" - 22.125" | 22.375" - 23.125 | 22.25" - 23.75 | 22.875" - 24.75 |
| 53cm - 54cm | 55cm - 56cm | 57cm - 58cm | 59cm - 60cm | 61cm - 62cm |
HELMETS

| S | M | L |
| --- | --- | --- |
| 20.5" - 21.25" | 21.67" - 23.125" | 23.25" - 24" |
| 52cm - 54cm | 55cm - 58cm | 59cm - 61cm |
GLOVES (Womens)

| S(8) | M(9) | L(10) | XL(11) |
| --- | --- | --- | --- |
| 6.625" - 6.875" | 6.875" - 7.125" | 7.125" - 7.375" | 7.375" - 7.625" |
| 170mm - 176mm | 176mm - 182mm | 182mm - 188mm | 188mm - 194mm |
GLOVES (Youth)

| YXS(4) | YS(5) | YM(6) | YL(7) |
| --- | --- | --- | --- |
| 5.25" - 5.375" | 5.375" - 5.625" | 5.625" - 5.875" | 5.875" - 6.125" |
| 132mm - 138mm | 138mm - 144mm | 144mm - 150mm | 150mm - 156mm |
GLOVES (Mens)

| S(8) | M(9) | L(10) | XL(11) | XXL(12) | XXXL(13) | XXXXL(14) |
| --- | --- | --- | --- | --- | --- | --- |
| 7.125" - 7.375" | 7.375" - 7.625" | 7.625" - 7.875" | 7.875" - 8.125" | 8.125" - 8.375" | 8.375" - 8.625 | 8.625" - 8.875 |
| 182mm - 188mm | 188mm - 194mm | 194mm - 200mm | 200mm - 206mm | 206mm - 212mm | 212mm - 218mm" | 218mm - 224mm" |
Socks (bike and lifestyle)

| Country | S/M | L/XL |
| --- | --- | --- |
| USA | 9 - 11 | 11 - 13 |
| EURO | 39 - 42 | 43 - 45 |
| UK | 5 - 7 | 7 - 9.5 |
Socks (MX)

| Country | S | M | L |
| --- | --- | --- | --- |
| USA | 6 - 8 | 8 - 10 | 10 - 13 |
| EURO | 38 - 41 | 41 - 43 | 43 - 46 |
| UK | 5 - 7 | 7 - 9 | 9 - 12 |
Belts (lifestyle)

| S | M | L | XL |
| --- | --- | --- | --- |
| 28 - 32 | 32 - 34 | 36 - 38 | 40 - 42 |
To measure the chest circumference, place the page around the fullest part of the chest, under the arms.
Measure from the center of the back neck out to the end of the wrist.
To measure the waist circumference, place a tape measure around your bare stomach just above the upper hip bone.
Measure the circumference about 23cm/9in below the waistline. Stand with feet together.
Measure from the crotch to the bottom of the leg (or desired length of hem), running vertically down the inside of the leg.
Measure from top of the head to bottom of the feet.
To measure the thigh circumference, place the tape around the fullest part of the thigh, below the crotch.
MADE FOR TRAILBLAZING
Inspired by our racewear heritage, the new Legion Pants are derived from our 360 pant chassis. With the use of TruMotion 4-way stretch and durable Cordura® fabrics, the Legion Pants provides an exceptional performance fit and defines the perfect balance of function, durability and versatility.
FEATURES
Cordura® Ripstop construction with TruMotion® zonal stretch panels
Two zipper vents for maximum adjustability
Double layer knee system made of full grain cow leather and abrasion resistant material provide high durability
Thin hem at cuff to eliminate bulk in boot
Zippered pocket to hold essentials
Strategically placed reflective trims (select colors only)