THIS IS FOX
MOTO NEWS
Minneapolis SX Race Recap | 2/10/19
This weekend, we headed to Minneapolis, Minnesota for the 6th round of the 2019 Supercross series and the opening round of the 250 East season. Austin Forkner didn't waste any time making his presence known. Start to finish, he led the competition and took the top step of the podium. In the 450 Class, Ken Roczen had another solid night, taking 2nd place and recapturing the red plate.
250 CLASS
Austin Forkner #24
Austin Forkner had a perfect night. He grabbed the holeshot in his heat race and finished 1st. The main was a carbon copy. He came out of the gate like a rocket and led every lap. As battles raged behind him, he methodically clicked off lap after lap – taking the checkered flag by a large margin.
Martin Davalos #73
Davalos looked fast all night but crashes would squander promising starts. In his heat race, he battled with teammate Austin Forkner for the holeshot, but a crash forced him to recover for 6th. In the main, he had another great start and was riding in second. However, a pass by Smith would lead to an unfortunate fall. He had to hold up slightly for Smith as he made the pass. This opened the door for Martin who made a block pass, taking down Davalos in the process. He struggled after the crash and finished 16th.
Chase Sexton #23
Sexton was up and down all night. He would finish 8th in his heat race after a few falls. In the main, he was riding with the leaders before he crashed during a pass attempt. He would recover and finish in the top 5.
Christian Craig #38
Christian Craig had a fall in turn one of his heat race but was able to recover, finishing 7th. He struggled at the start of the main, landing mid-pack after turn one. Still struggling with injury, he finished 20th.
450 CLASS
Ken Roczen #94
Ken Roczen's consistency continued like clockwork. In his heat race, he rode with the leaders - battling with Webb and Tomac – and finished 3rd. In the main, he was 3rd after the turn. The leaders would battle for position through the early laps, but passes were hard to come by. Webb, sitting 2nd, would eventually make the pass for 1st and begin to gap the field. Roczen, sitting 3rd, ultimately passed Savatgy, who was holding him up, but by then there was no catching Webb. Ken would have to settle for 2nd but regained the Red Plate in the process.
Chad Reed #22
Chad Reed had a solid night, finishing 6th in his heat race and 7th in the main. It was an impressive ride for Reed as he made his way to 7th from way back in the field.
450 Class:
2 – Ken Roczen (+ 10.695)
7 – Chad Reed (+ 49.012)
250 Class:
1 – Austin Forkner (20 laps)
5 – Chase Sexton (+ 17.934)
16 – Martin Davalos (+33.135)
20 – Christian Craig (15 laps)
WHAT'S NEXT
Next week we are Texas bound for round 7: Arlington Supercross.
For raceday Moto coverage, follow Fox Racing on Instagram @foxmoto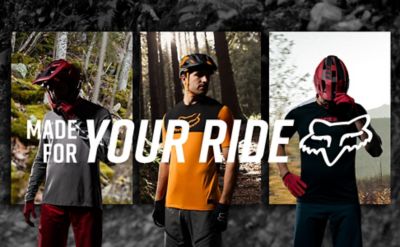 MTB NEWS
SPRING 2019 MTB COLLECTION | 2/6/19
Every rider is different, and no two rides are the same. So, to meet your individual needs, we created three purpose-built lines of gear – each providing you with a unique set of benefits. Whether you need gear with a focus on durability, versatility or mobility, we've got you covered. Use our all-new kit builder tool to create a kit tailor-made for your next ride. Use our all-new kit builder tool to create a kit tailor-made for your next ride.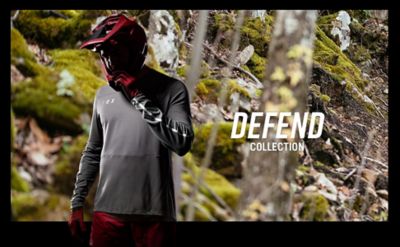 TOUGHER THAN DIRT
Rugged conditions, abrasive trail overgrowth, the occasional fall: These are certainties on the mountain. The Defend Mountain Bike Collection stands up to this trail-related wear and tear – ride after ride. Using super tough Kevlar fabric and reinforced taped seams, this range of MTB jerseys, shorts, and gloves will be the most durable in your arsenal.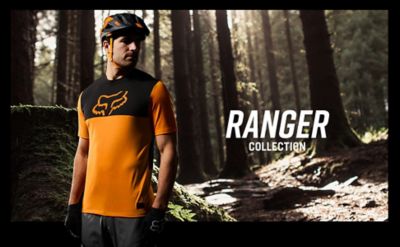 PERFORMS EVERYWHERE
The look and feel of your favorite t-shirt packed with technical features and cut for comfort in a mountain bike riding position. Introducing the all-new Ranger Mountain Bike Collection. With natural-feeling fabrics concealing technical features, this range of jerseys and shorts allows you to hit the trails on your lunch break and get away with it.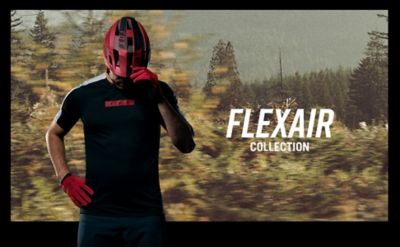 MAXIMUM MOBILITY
Flexair is our lightest and most breathable MTB gear. It's so light, airy and flexible, in fact, you might forget you're wearing it. On your hottest rides, the Flexair Mountain Bike Collection of shorts, jerseys and gloves will keep you comfortable with ventilation, advanced moisture wicking, and limitless mobility.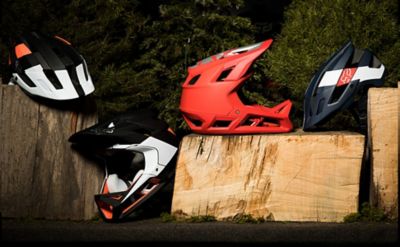 MADE FOR REVOLUTION
The introduction of the Proframe helmet was a radical new direction for the mountain bike helmet industry. Taking everything we learned from that endeavor, the Spring 2019 MTB Helmet Collection builds on the rebellion with a new version of game-changing innovation for riders in every discipline.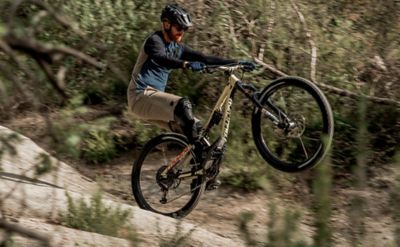 WELCOME TO THE ARMORY
Aiming for endless improvement, our design team gave our collection of mountain bike guards a serious update. Our best-sellers have been modernized with CE certifications, we've launched our revolutionary Fox F3 Armor, and a host of brand-new styles are here to fill any gaps. This collection of guards is our most comprehensive ever, featuring everything from hard-plated guards and pedal-friendly slip-on styles to armored shorts and base layers.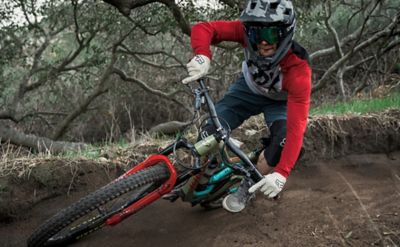 GET A GRIP
As the most important connection between rider and bike, gloves have been a focus for us since day one. For 2019, we've raised the performance level yet again with all-new gloves and completely re-engineered versions of some of our best-performing styles. Partnerships with iconic manufacturers Kevlar®, D3O™, and Clarino®, combined with a forward-looking design philosophy have resulted in an MTB glove collection which is truly made for your ride.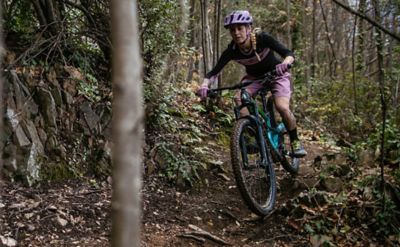 MADE FOR WOMEN
For women, by women. At Fox, we're lucky enough to work with some of the most talented athletes in the world. Our all-new Women's Collection is here thanks to intensive research and development in partnership with our women's racing team. This range features women's Defend, Ranger and Flexair Collections with a female-first design and specific fit.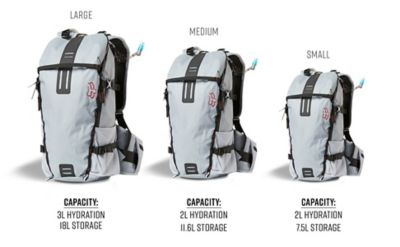 ALL-NEW HYDRATION PACKS
Fox hydration bags are designed to take you from your house to the top of the trail and back again. Every ride is different, so we offer packs in three key sizes - equipping you for everything from all-day epics to quick local loops. Select your perfect pack based on your individual hydration and storage needs.
MOTO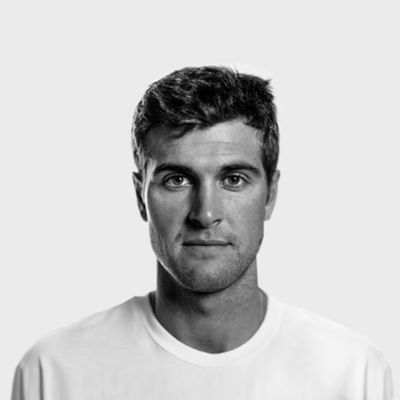 Born into a family of racers, from early on it was clear that Ryan Dungey was something special. Fast forward through two decades, and having already notched up first place wins at the Supercross Lites Championship and the 250 Motocross Championship in 2009, the 2010 racing season proved to be a particularly memorable one for the American rider. Ryan started the season by showing that he belonged with the big boys in supercross. By the time the North American series was finished, he was crowned 2010 Supercross Champion.
But Ryan didn't stop there – demonstrating his abilities as inarguably the best all-around motocross racer in the world, that same year he blitzed the competition in the AMA Motocross Championship and took the title. He thus finished the season as a history-maker, coming away as the first rookie in history to win both the premier Supercross and National Motocross titles in his inaugural season. To cap off the year, Dungey led Team USA to victory in the prestigious Motocross of Nations event, held on American soil in 2010 in Colorado.
By 2012, Ryan had joined the KTM family, bringing the team its first ever win in the AMA Motocross series. He finished his Supercross season in third place, despite a collarbone break that required surgery. At the 2013 AMA SX season finale in Las Vegas, Ryan finished second place, bringing his overall season points to 337 and a third place overall finish.
In 2014, Dungey kept his momentum, taking overall second places at both the Lucas Oil Pro Motocross Championship 450 and the 2014 AMA Monster Energy Supercross Series, not to mention first place at Red Bull Unadilla National. With yet another stellar start in 2015, Ryan has demonstrated that commitment, hard work and sacrifice really do pay off with another AMA Supercross and AMA Motocross championship now under his belt.
Dungey, with back to back championships in the 2015 season, charged full steam ahead into the 2016 Supercross season energized with confidence. Ryan dominated the 2016 Supercross series winning 9 rounds that year. The 2016 Pro Motocross Championship opening round started off well for Ryan at Hangtown where he posted a 2nd place finish over-all. The very next round at Glen Helen, Ryan took home the victory and celebrated his 39th over-all win in the Motocross 450 Class. Round three in Colorado, Ryan finished with a 2-4 moto tally placing second over-all on the day. Ryan, at that race suffered a crash during the 2nd moto ending his chances of repeating his Championship in the 2016 Pro Motocross Championship. Even though the season was over, Ryan received top honors at the 2016 ESPY Award for Best Male Action Sports Athlete.
Read More
#FOXRACING
Fox Racing
Fox has maintained its position as the innovation leader in the MX industry by designing and producing motocross gear and apparel for the worlds best riders. Building off this athlete-driven design philosophy, the company has expanded its activity and products into MTB, BMX, and rounding off the design innovation to moto-inspired lifestyle apparel for men, women and youth.
We are excited to debut our highly anticipated MX19 Collection. For the 2019 Motocross season, key stories include revitalized graphics & color look throughout the entire motocross line – including gearsets, helmets, boots, gloves, and goggles. The Fox MX19 Collection also features an updated Flexair jersey, an all-new V1 helmet, and an innovative Comp boot. Fox 2019 is Made for Motocross.
#FOXRACING
Fox Racing
Fox has maintained its position as the innovation leader in the MX industry by designing and producing motocross gear and apparel for the worlds best riders. Building off this athlete-driven design philosophy, the company has expanded its activity and products into MTB, BMX, and rounding off the design innovation to moto-inspired lifestyle apparel for men, women and youth.